Take your yoga practice anywhere!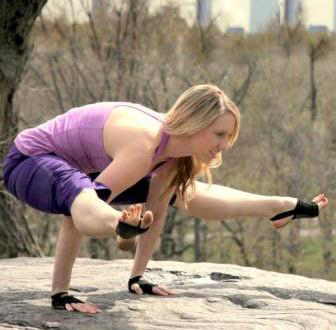 Yoga-Paws were developed over a decade ago and have been continually improved since. The latest "Elite" version of Yoga Paws was introduced in 2011 and was developed based on feedback from teachers and students from our large customer base.
Yoga-Paws are patented grips that fit onto your hands and feet for non-slip control when practicing yoga or Pilates.
Yoga-Paws afford added support, extra padding, and comfort. Compact enough to fit in your sock drawer at home or in your desk drawer at the office, Yoga-Paws are there when you're ready to bless yourself with your yoga practice without taking a large, cumbersome yoga mat with you.
All Yoga-Paws also come with a FREE carrying bag—and they're compact, so you can take them with you and use them in almost any environment. They are durable and effective as a traditional yoga mat – but at a fraction of the size!
Yoga-Paws come with a 30-day money back guarantee.
Order 4 or more Yoga Paw pairs and get a 5% discount!
---
Yoga-Paws Sizes and Colors
Sizes 1, 2, 3, & 4
Sizes 1 & 4
Sizes 1, 2, 3, & 4
Sizes 1, 3, & 4
NOTE: Most women will wear size 2 and most men size 4.

To size, follow the 3 steps below:

Hold your hand flat against a table and wrap a measuring tape around your hand at the widest point (usually the knuckles).

Round the measurement to the nearest 1/2 inch.
Refer to the chart below to find the right size for you.

Size 1
Size 2
Size 3
Size 4
5.5 – 6.5″
7 – 8″
8 – 9.5″
9 – 11″
Women's
small
Women's
regular
Women's lg
Men's sml
Men's
regular

Taking Care of your Yoga Paws

When should I wash my Yoga Paws?

We recommend washing your Yoga-Paws after each use. It only takes 1-2 minutes— just like washing your hands! By keeping your Paws clean, you remove the dirt and oils from your perspiration from accumulating in the Yoga-Paws towel liner.

How should I wash my Yoga-Paws?

The easiest and most effective way to wash your Yoga-Paws is to flip them inside out, exposing the towel lining; then put them on like gloves; and wash them as you'd wash your hands, under the faucet with cold water and a gentle soap. Then just lay out your Yoga-Paws to air dry.

We do not recommend machine washing your Paws—unless you use a delicate, cold water setting, placing the Yoga-Paws in a delicate garment bag. The free carrying mesh bag included with your Paws can serve this purpose, too.

Made for Comfort and Environmentally Friendly

Yoga Paws gloves have external seams. This feature reduces discomfort from pressure points when spreading your fingers. Also, it helps provide a secure seamless/snug fit for greater ease of movement and comfortable gripping.

The palms of the gloves are made from 6mm, Eco-Friendly, TPE (Thermal Plastic Elastomer) yoga mat material, providing extra padding to protect your wrist and comfortably support your body weight in balance poses.

The back of the gloves has a breathable mesh, to enhance air circulation within the Paw. Additionally, there's a Velcro® closure for an adjustable, comfortable fit. Yoga-Paw gloves have a special towel liner, absorbing 7 times its weight in perspiration.

Yoga-Paws feet have a recycled natural rubber sole, for durability and comfort. The top feet is made from a double-sided Lycra/spandex blend material, which helps. the feet to comfortably fit a variety of sizes, while maintaining a snug/secure fit. Finally, the feet (just like the hands) are lined with a towel liner which absorbs 7 times its weight in moisture.

What they're saying…

People all over the country and world use Yoga Paws. Read what they have to say!

I had to write to let you know how much I love my new Yoga Paws! I took them to class today, so I was a living "show & tell". Everyone was interested to see how well they worked for me. Thank you for a great product!
Kathy Bernett, Gladstone, MI

I recently purchased your Yoga Paws for traveling and I have to say that they have changed my practice & life! Before, to take a mat with everything else one needs for touring & traveling abroad with the insane weight restrictions these days has made it impossible for me to take a mat. But now you have solved all that… thanks! They rock! Have a great day and thanks again for the great product!
Peace, JC
John Cabán Music, Brooklyn, NY

Yoga Paws are the greatest!!! They are so convenient and comfortable, allowing me to do yoga anywhere without having to worry about carrying around a mat or stay confined to one. I would recommend them to any yoga enthusiast.
Amy Kemp, Madison, AL

I am also very excited about the innovative creation of Yoga Paws! Because I travel frequently I have found them the perfect fix in my suitcase. Now I can practice safely in my hotel with room. I simply spread out a clean towel on the floor and the paws keep me as safe as using a yoga mat. Give the Paws a try. They are great addition to anyone's life!
Paula Brill, Wickenburg AZ

If you have tried everything; the Chiropractors, the drugs, etc; now it is time to try this! As a professional I can say that Yoga-Paws have helped me with neck and back pain I have had for years. It has even improved my golf game!
Gerard Schmidtke DDS, Arizona

I am 57 years old and have done very little yoga before. However, after just a few weeks I was amazed by my "new" flexibility. After a few months I was again amazed that I am now about to do some of the movements that I once thought would be impossible. I love Yoga-Paws and think they're a great way of staying in shape for people of all ages.
Christina Mazotti, New Mexico

Love em!! I just gave my pair to my daughter who is volunteering in Africa for a month. Thanks.
K. Marcus

I'm happy to tell you that the other set of Paws arrived. I have been using them in my classes and in my own practice and they are just brilliant. I highly recommend them for any traveling yogi or any yoga instructor – they make doing adjustments and showing students how to modify/do poses so much easier because you have the mat at your fingertips – literally. Thanks again!
Jenn
Yoga-Paws come with a 30-day money back guarantee.
If for any reason, within 30 days of your purchase, you are not 100% satisfied with your Yoga-Paws, simply call or send us an email and get our acknowledgement, then repackage and ship back to the return address*. As long as the returned Yoga-Paws are received in good condition, we will return your full purchase price. (All shipping and handling charges are covered by you.)
*Please always contact us first before attempting to return products. We must acknowledge your request first.
Shipping and Handling

Our standard shipping, is USPS, for all 50 US States (including Hawaii and Alaska).
Expect 4-7 business days' transit time.
Individual Yoga-Paws standard US shipping and handling is $4.95. Multiple items are additional.
We can ship outside of the US, or faster within the US—$11.95 per item additional.
No Sales Tax
We do not charge any sales tax!
The following short video (1:26) shows Yoga Paws in Action.